Tours
"The Prettiest and Fanciest Home on the Boulevard..."
A Glimpse Into The Past...
Have you ever wondered what a Victorian mansion looks like on the inside? Now you can see for yourself!
While The Rosalie is a private residence, we offer tours by advance appointment. We regret we can't accomodate last-minute tour requests, but welcome you to call us at (479) 253-7377 at least a day prior to your visit. Tours are $25 per person, with a $5 per person discount for groups of six or more. We can accomodate up to ten people per tour.
As The Rosalie is a historic building on the National Register, we are not able to accomodate those who have difficulty negotiating numerous stairs and thresholds.
---
What you will see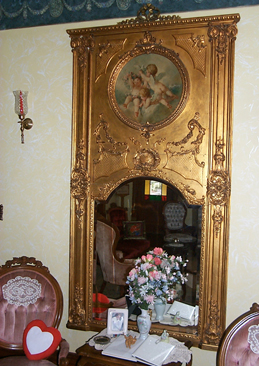 From a diamond dust mirror to ornate hand-carved wood trim, from a gilded French petticoat mirror to period Eastlake furnishings, The Rosalie has stunning appointments and architecture that makes it a one-of-a-kind masterpiece. Come see the hallway walls upstairs that were curved to accommodate a "central heat" wood stove during the winter, and the cave that keeps food cool year round.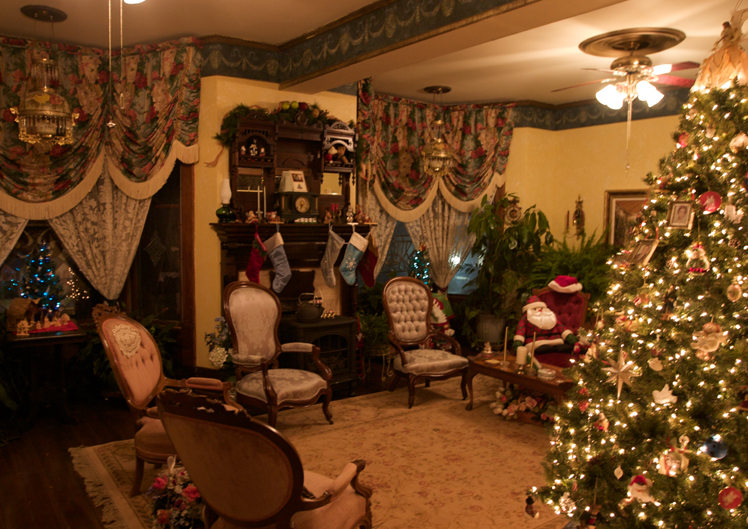 You'll also learn all about the folks who have owned The Rosalie over the years and the many changes they made along the way. And for chocolate lovers, you will get to see one of the largest collections of Hersheys® memorabilia outside of Hershey, Pennsylvania. Our collection includes chocolate molds from the early 1900's, advertising printing plates, a Hershey® Chocolate Village, rare collectables from The Hotel Hershey and much, much more — over 3,000 pieces in all!
And if you like lions, tigers and bears, we have hundreds of them at The Rosalie- amazing plush animals collected from all over the world, including several from our friends at Turpentine Creek Wildlife Refuge, located just south of Eureka Springs on Highway 23.
To arrange a tour, please call (479) 253-7377 or send an email to info@TheRosalie.com as far in advance as possible. We regret that we can't accomodate last-minute tours and are not open to the general public.