Weddings
"The Prettiest and Fanciest Home on The Boulevard..."
Your Special Day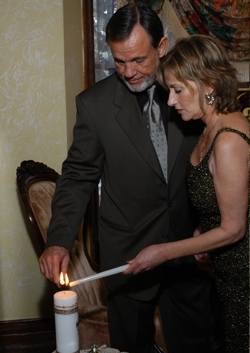 From small intimate weddings in our double parlor to outdoor weddings with up to 25 guests in our beautifully decorated gazebo, The Rosalie is the perfect place for your most special day.
Eureka Springs is reportedly only third to Las Vegas and Niagra Falls in per capita weddings. Why? Because Eureka Springs is truly a magical place to get married! There is something in the air (and in the water) that makes it the perfect place to not only get married, but to return to year after year to celebrate your anniversary!
We perform a small parlor ceremonies with bride, groom and up to four guests, or garden ceremonies with wedding partiers of up to 25 people including bride and groom.
---
Your Day, Your Way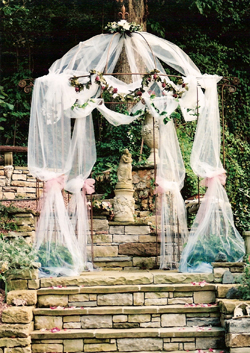 Our ceremonies are customized to your desires, and can be either non-denominational or sectarian in nature. We welcome you to write your own vows or ceremony, or we have beautiful ceremonies ready to make your wedding perfect.
For more elaborate weddings, we can provide:
The use of the public areas of The Rosalie House for 2 hours
Minister
Complimentary sparkling juice for bride & groom's toast
Candles
Pre-recorded wedding music
Napkins
Crystal, cut glass, fine china and silver serving dishes, glasses and cutlery
Grand staircase for bride's entrance
Antique furnishings, one-of-a-kind mirrors, and original stained glass windows
Ceremonies may be in the garden, weather permitting
Number of persons attending: Up to 25, including bride and groom.
Price: Prices are dependent on the level of service and ameneties requested, and start as low as $100 for an elopment ceremoney.
We can also arrange additional services through other wedding service providers:
Live Music
Photography
Videography
Carriage & Limo Rides
Guest Transportation
Wedding Cakes, Punch, Nuts & Mints

Dream it, and we'll help make it happen! To arrange your wedding day, please call (479) 253-7377 or send an email to info@TheRosalie.com.